Tuesday 5th – Wednesday 19th March 2019
A holiday to Mexico has always been in my top 10 places to visit. So, when we booked the all-inclusive package holiday with Tui to go to Cancun, we were very excited. We had to wait a whole year before we went on the holiday, but 2 weeks of relaxation in beautiful surrounding and hot sunny weather was the ideal winter sun getaway.
There are three reasons we book so far in advance when booking holidays: 1) It means we have 12 weeks before the date of travel before you have to pay for it. 2) Hotels or cruise ships have a limited number of adapted rooms so, it's wise to book early to avoid disappointment. 3) Booking a holiday when you are a wheelchair or have any form of accessible needs is always time consuming. It requires a lot of research and enquires i.e., does the hotel have wheelchair accessible rooms? How is the accessibility around the hotel? Is the area/resort outside the hotel accessible? How close is the hotel to the town centre? What are the sidewalks/paths like? What is the access to the beach like? If the hotel has one is it accessible? Enquiries need to be made regarding tours and excursions, public transport & taxis, to ensure that the holiday goes as smoothly as possible. Before I even call my friend and travel agent Katrina at Tui, with my decision on where and when I want to go on holiday, I have already made numerous calls and sent emails finding out all sorts of information, then it is over to her to book the holiday and organise the other things like assistance getting on to the plane, confirming the adapted room etc.
On the morning of our holiday, we were filled with excitement. As usual we arrived at the London Gatwick via an accessible taxi, 3 hours 40 mins before our flight, as checking in takes a while and so does going through security as a wheelchair user, plus you need to be at the gate 50-60 minutes before the flight leaves.
On this holiday we decided to book Premium Economy seats, it was our first time booking such seats but as it was a 10-hour flight we wanted to have more space and leg room, so we were as comfortable as possible. Having these seats also meant we had designated check-in desk to go to, speedy security lane, airport lounge where we went for breakfast and had pre-flight drinks free of charge, speedy boarding and welcome drinks on the plane.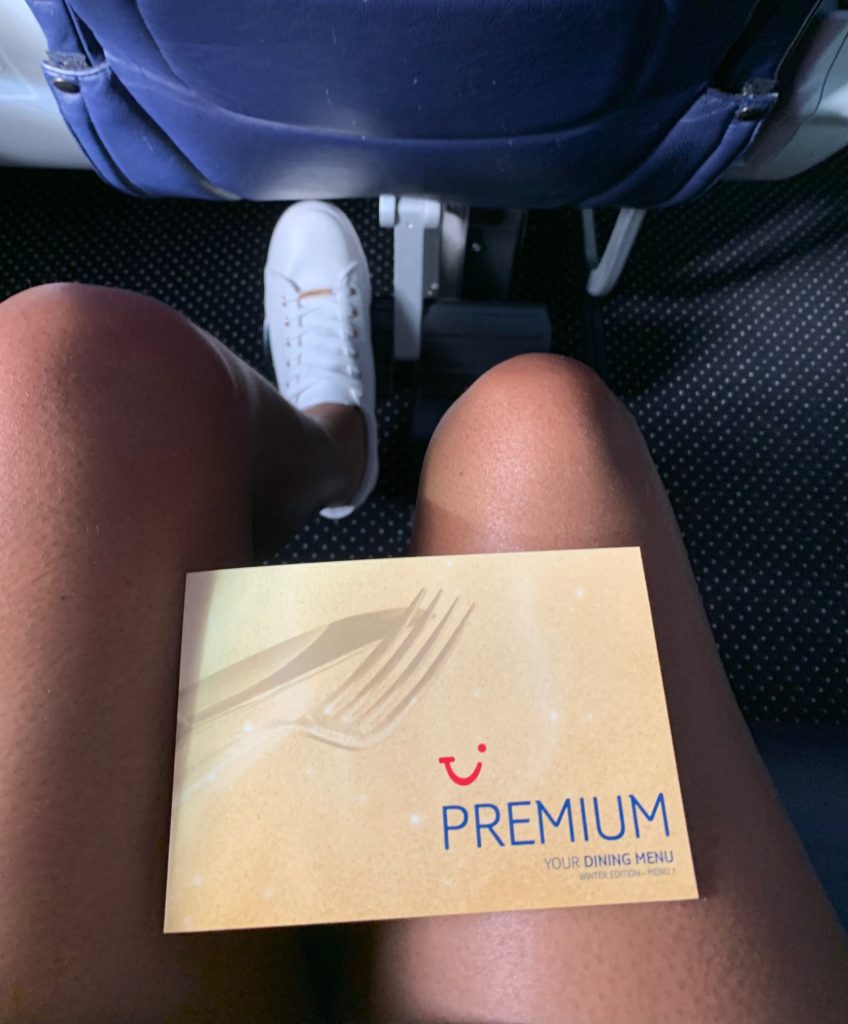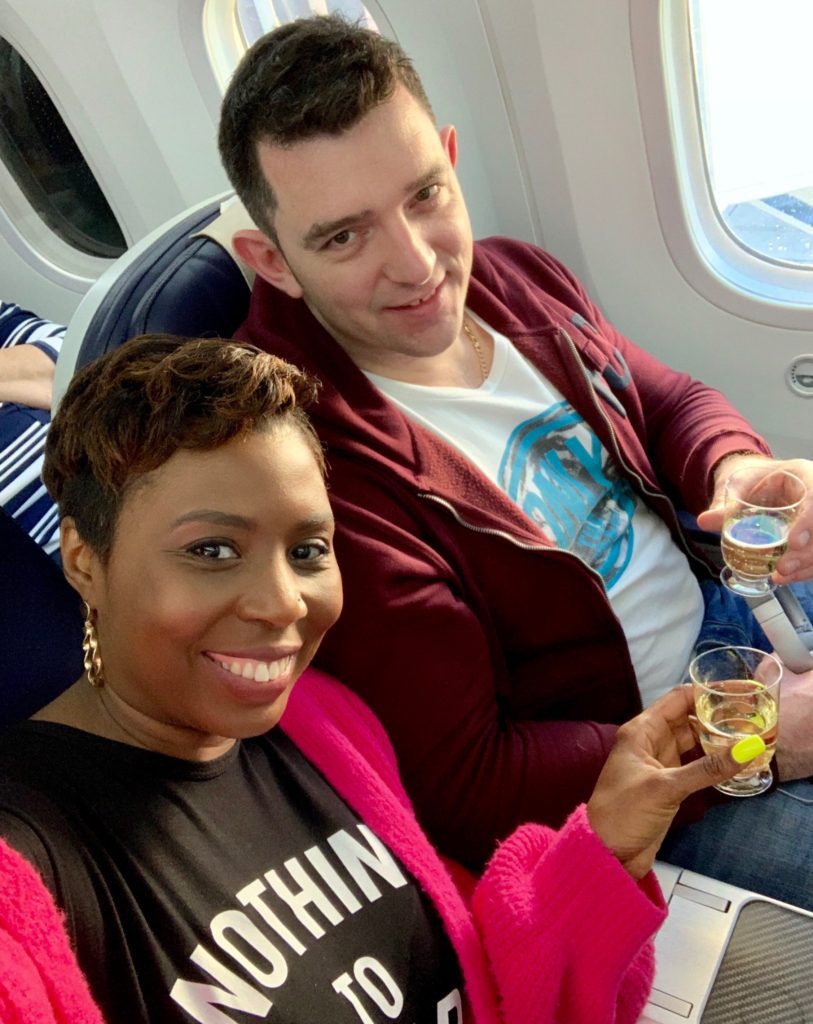 When we landed in Cancun it was 2:15 in the afternoon and it was a hot and sunny day. We arrived at the 5* Riu Cancun hotel only to learn the hotel had messed up our booking and gave our adapted room away. Thankfully, Nicki the Tui rep that was based at the hotel proved that they messed up the booking and they gave us an upgrade to a Junior suite on the 13th floor of the hotel for 3 nights until an adapted room would be available. It wasn't ideal as it wasn't adapted but there was enough room to make it work.
The next day, the first full day of our holiday it was very cloudy. Unfortunately, my boyfriend got severely sunburnt, because he didn't apply sun cream, which had an extreme effect on the holiday for the both of us.
The Riu Cancun hotel, is a large hotel complex, with a beach front location, 3 outdoor pools, bars, restaurants, a nightclub, a shop, and a 10-minute wonder to the bars and clubs of Cancun. It was the perfect location! The hotel is very accessible, in terms of getting around, the only access criticisms I have are 1) There is no access to the salon and spa or gym, as it is up a flight of stairs. 2) The ramped access to the beach has two steps at the bottom of the ramp to get on the beach. 3) There is no path on the beach that you could wheel on, a beach wheelchair is required.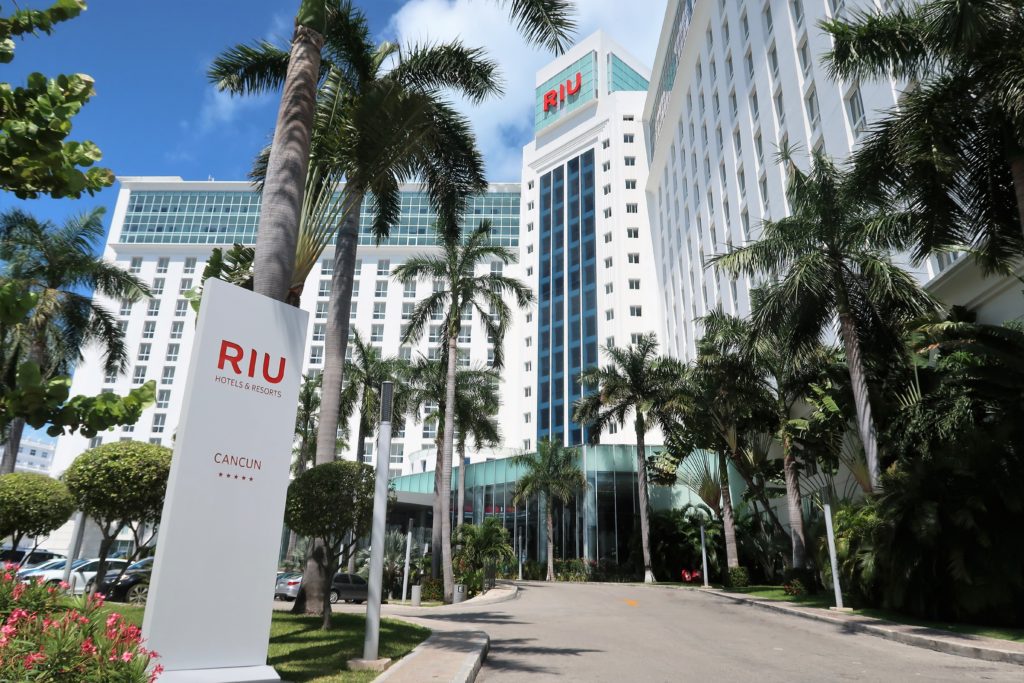 Before leaving for Cancun, I contacted Cancun Accessible, they are the number one company to contact if you are going to Cancun and you are a wheelchair user or have any mobility needs. They do accessible tours and excursions, equipment hire and accessible taxi service. We hired an amphibious wheelchair, so my boyfriend was able to push me along the sand on the beach and into the sea. These chairs are brilliant and help you enjoy the sea like anyone else, in my opinion they are something all beach resorts should have and makes a huge difference to the holiday.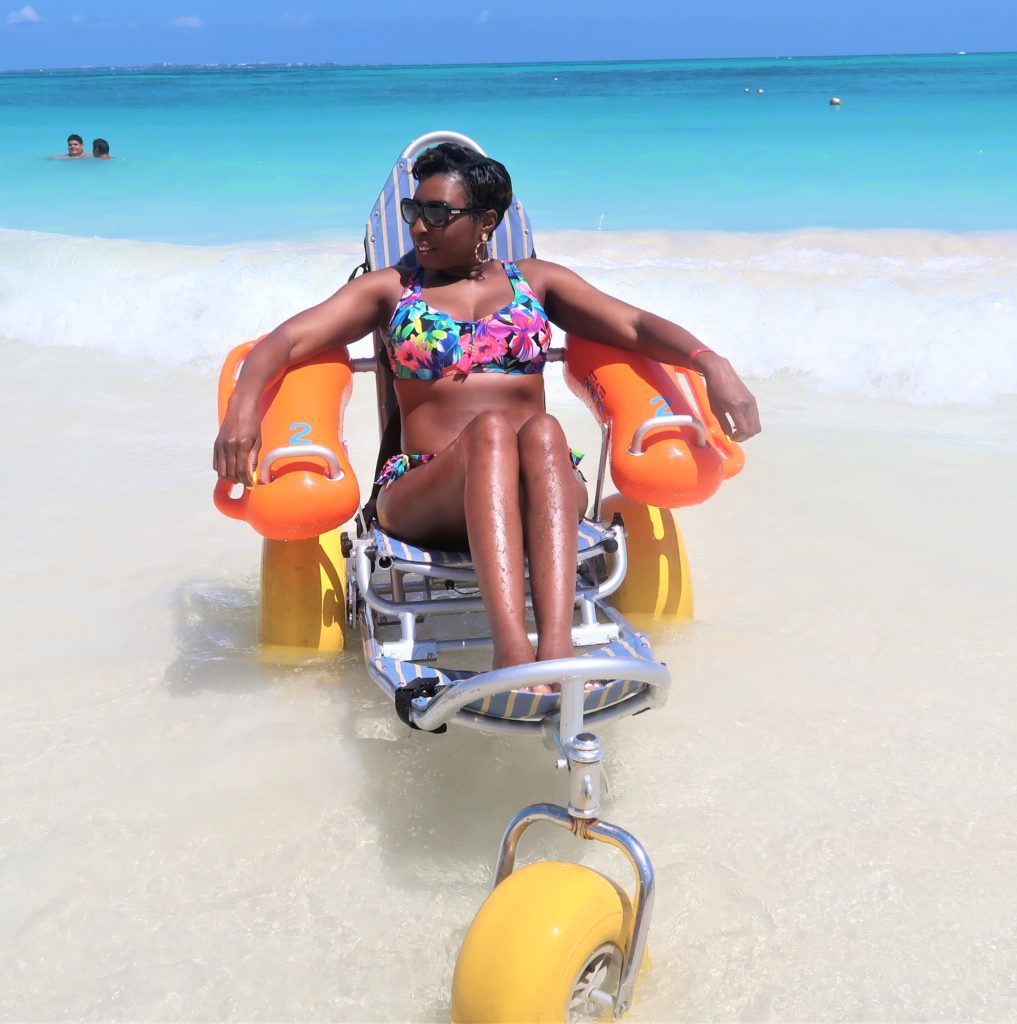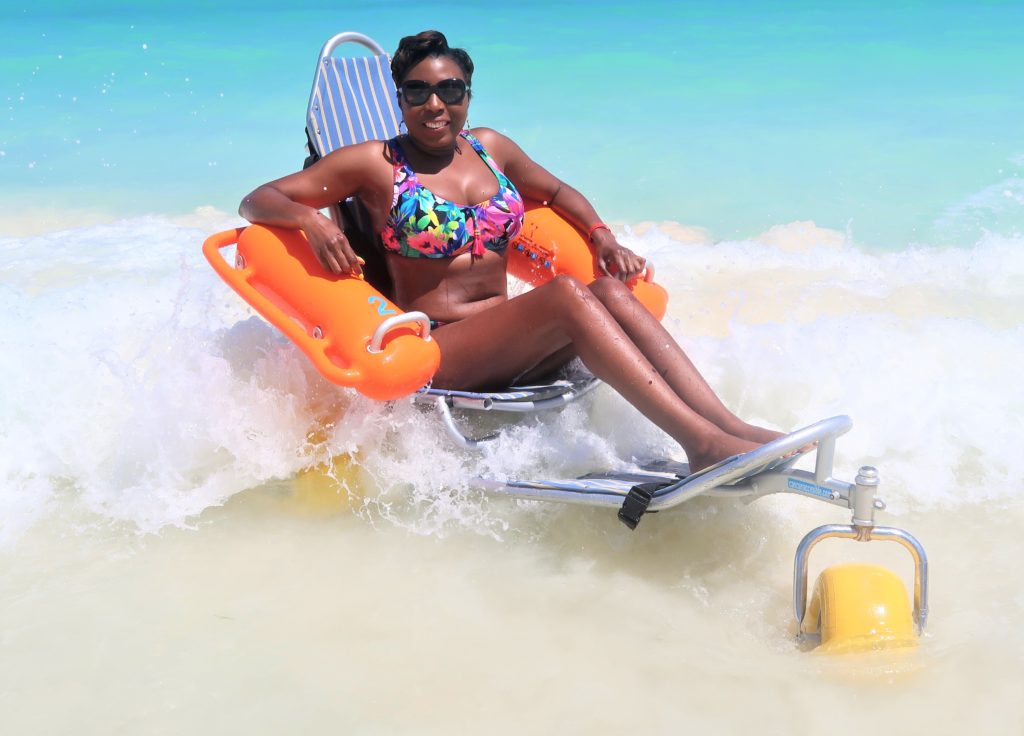 We only did one excursion with Cancun Accessible, but for me it was the most important one, a visit to Chichen Itza to see the Mayan ruins – which is one of the '7 wonders of the world'. This was something I have always wanted to see and in my opining a must see if going to Mexico. Our driver and guide for the day was the lovely Mario, who picked us up in from the hotel at 9am in a fully air-conditioned accessible vehicle. Although it was just my boyfriend and I on the trip the vehicle could easily have had another 2 or 3 passengers, it just meant there was plenty of room for the 2 of us on what was going to be an amazing day.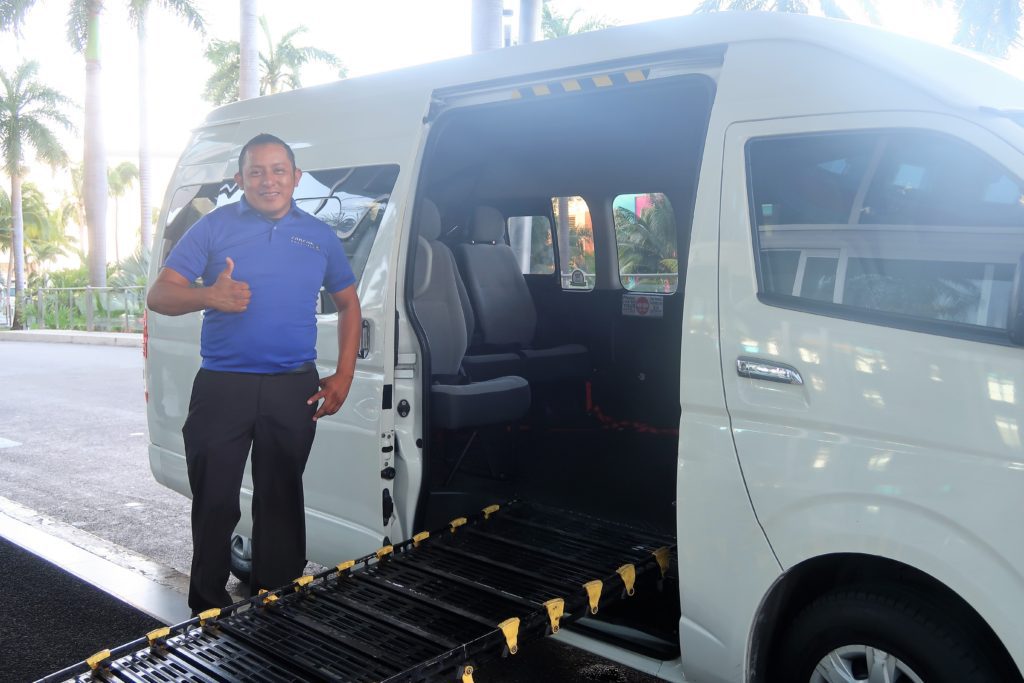 We arrived Chichen Itaz around 11am were we had an hour and half tour with the very friendly and knowledgeable guide Manuel.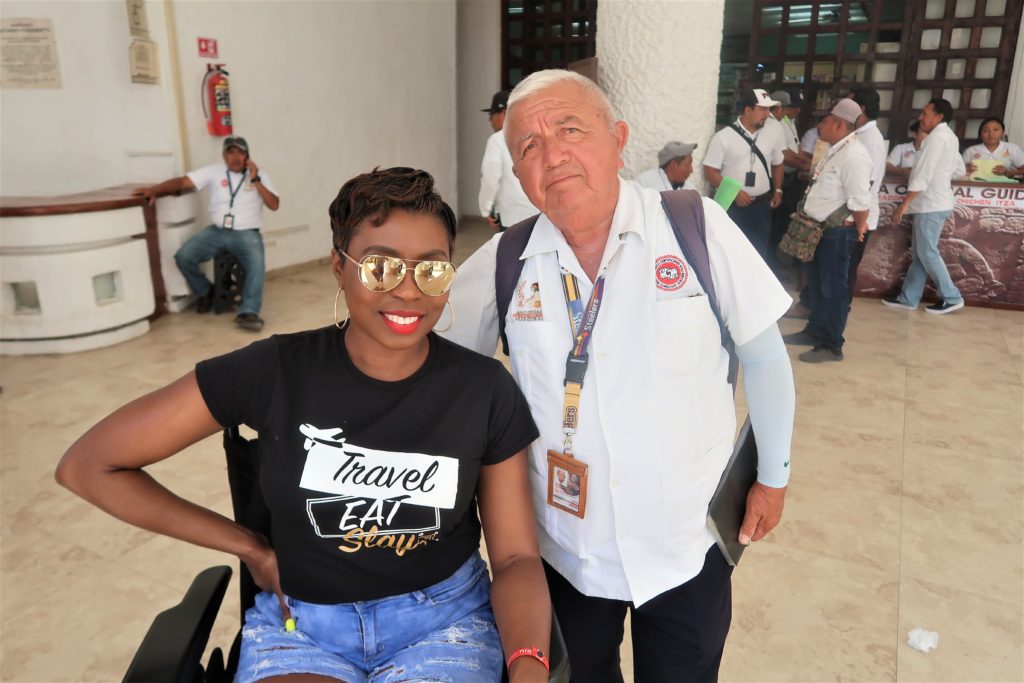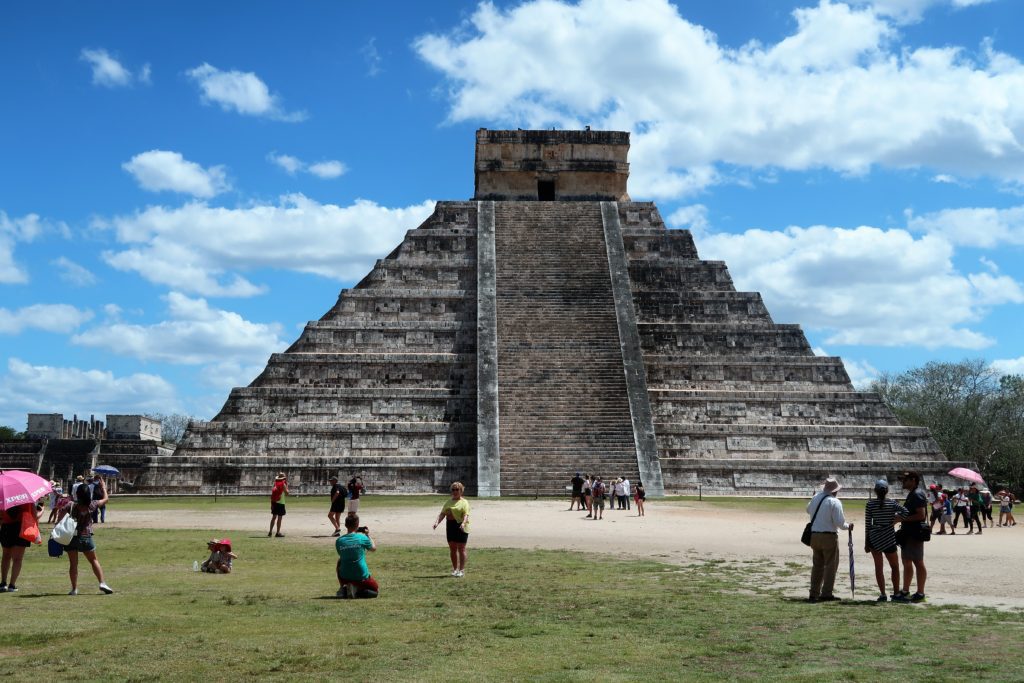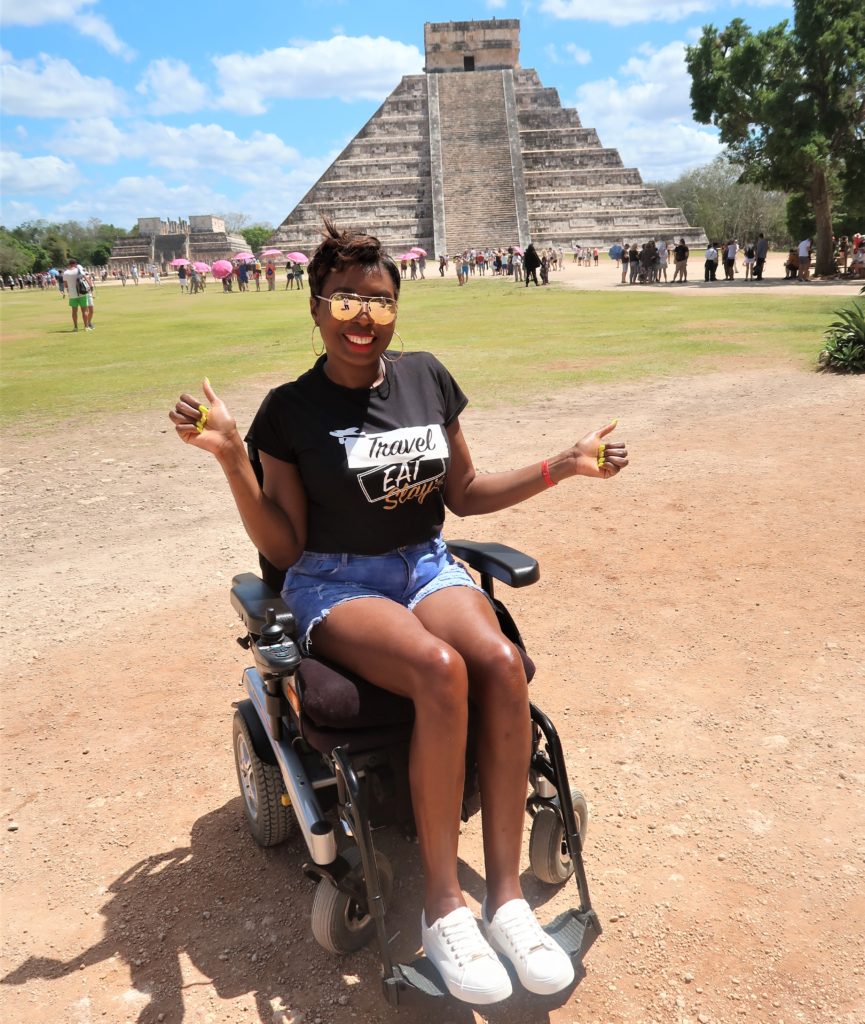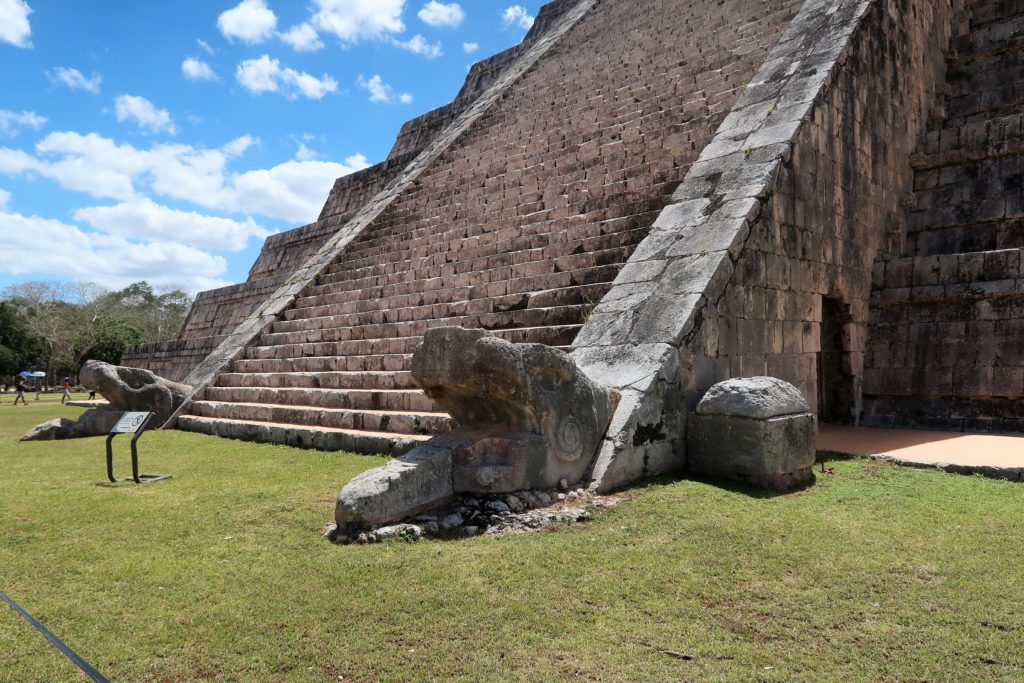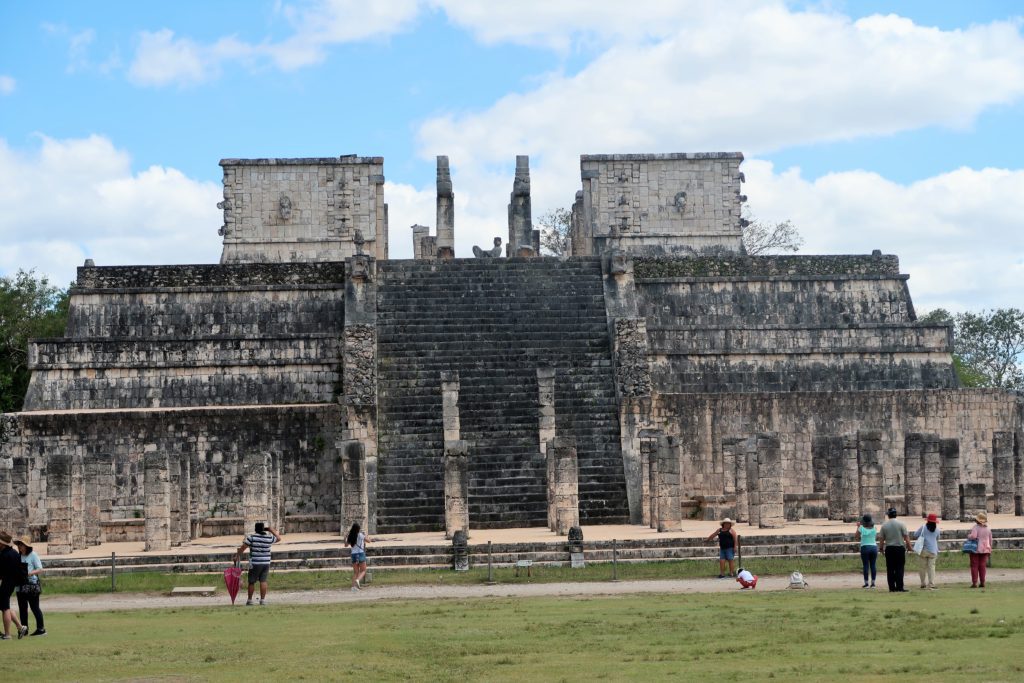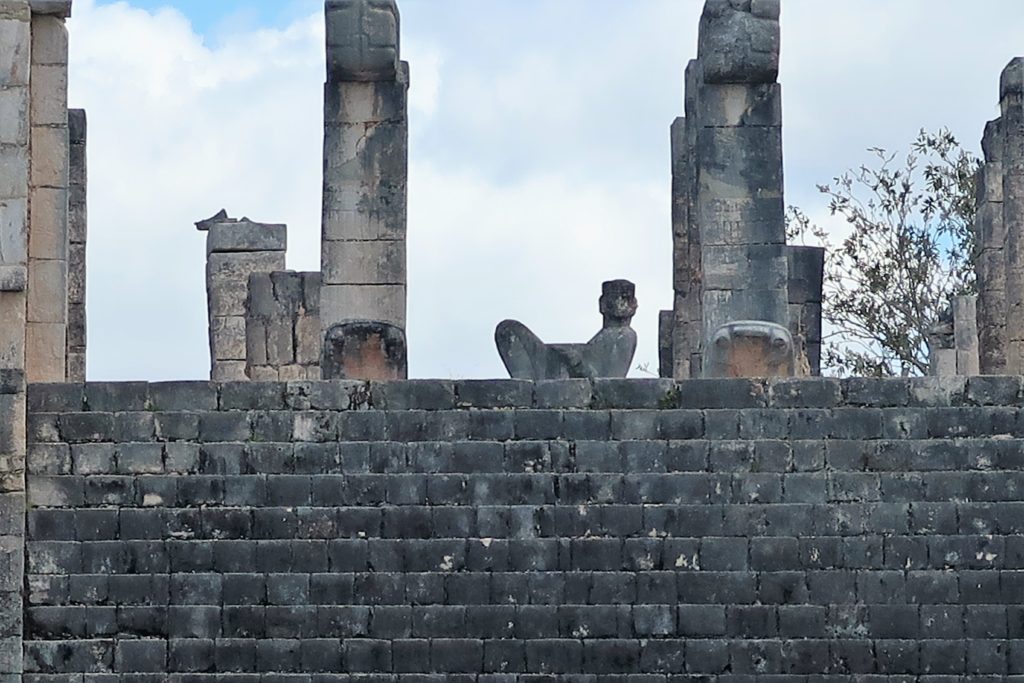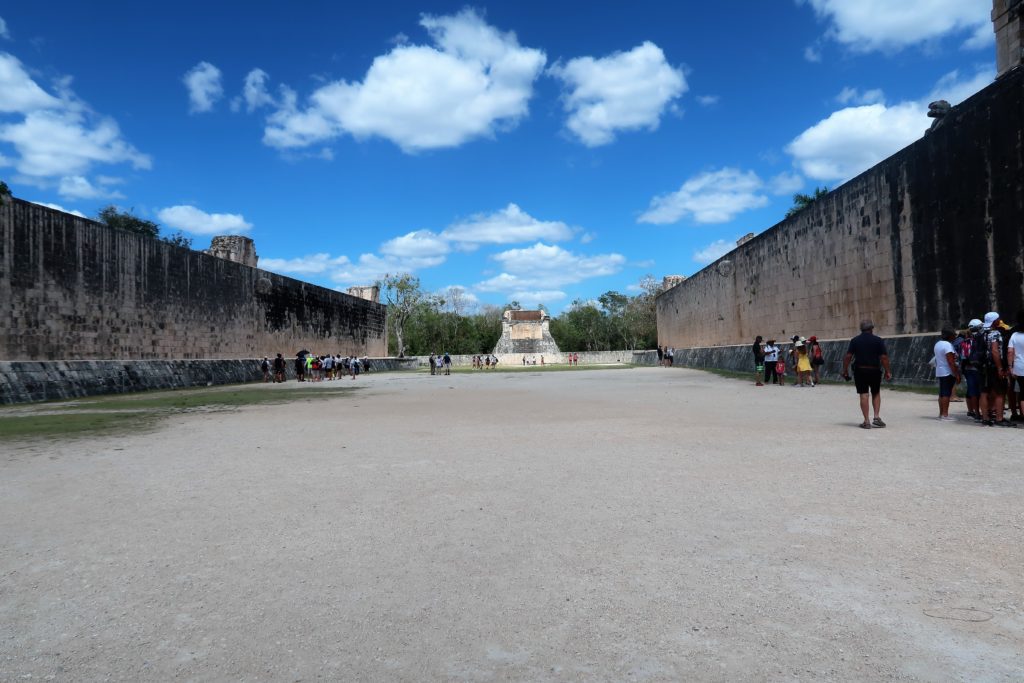 After the tour of Chichen Itza, Mario then took us to Cenote Ik Kil to have a Mexican lunch. The lunch was a buffet where we could eat as much as we liked, and it include a soft drink or bottled water. Being vegan & gluten free they happily made me something fresh from the kitchen.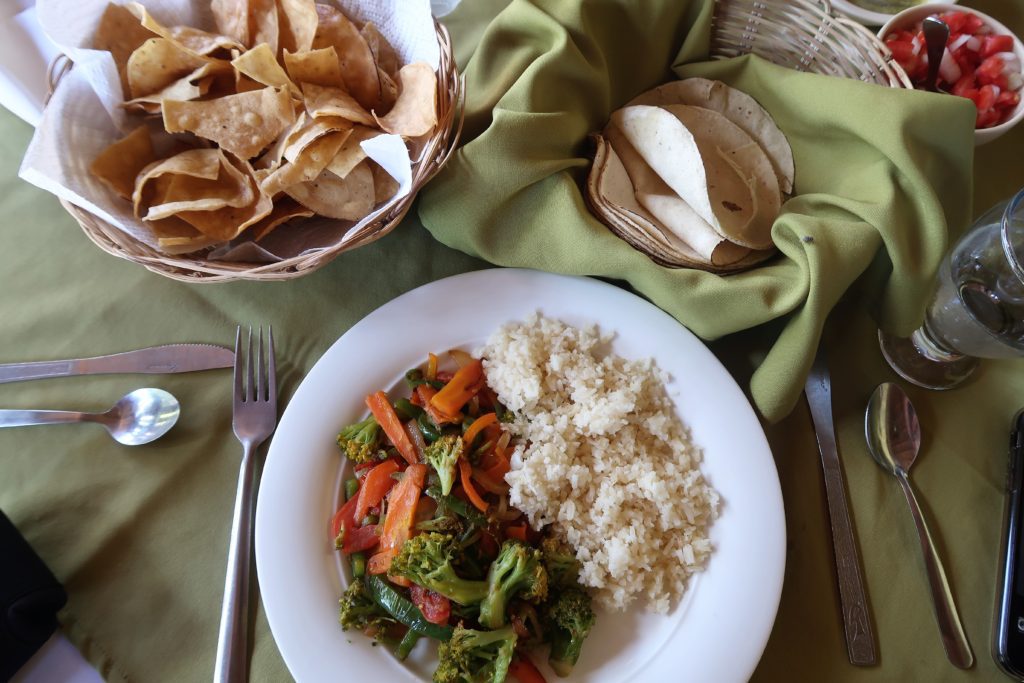 When we had eaten lunch, we then went to a small town called Valladolid. We looked around then went to a local bar where I had a few tequilas….
When Mario dropped us off at our hotel it was around 7pm. It was a long day, and I was tired, but it was an amazing one from start to finish.
We saw Mario again when we hired a return taxi service, through Cancun Accessible, to take us from our hotel to Playa del Carman. This is around a one-hour drive from Cancun. Our pick-up time was for 4pm so we could be down there for the evening, have a meal and look around.
From what we saw of Playa del Carmen it has a quite laid-back atmosphere, when compared to Cancun, with a mix of locals and tourists giving it a real Mexican vibe. The main area of Playa del Carman is called 5th Avenue, which is all pedestrianised and flat, with loads of shops, bars, restaurants, and some shopping malls. There were even a few organic vegetarian and vegan restaurants which I was very pleased about, as we had a drink in one and a meal in another. As the sunset the lights of 5th Avenue lit up and it looked pretty. We then had a lovely evening drink at the very classy restaurant and bar before we were picked up by Mario to take us back to our hotel in Cancun.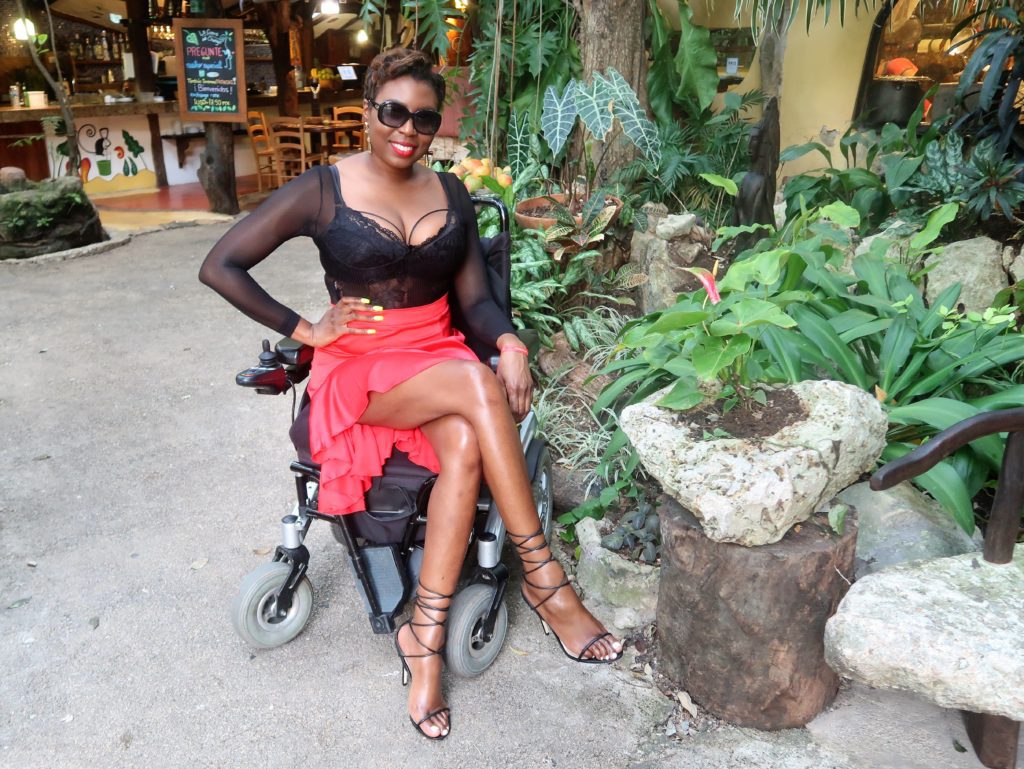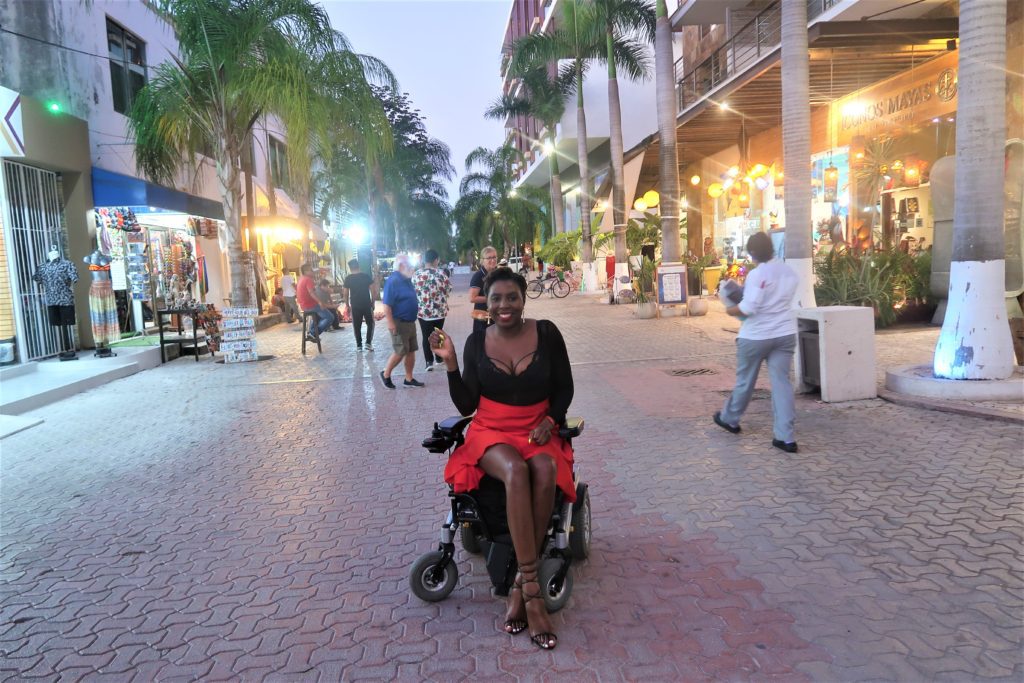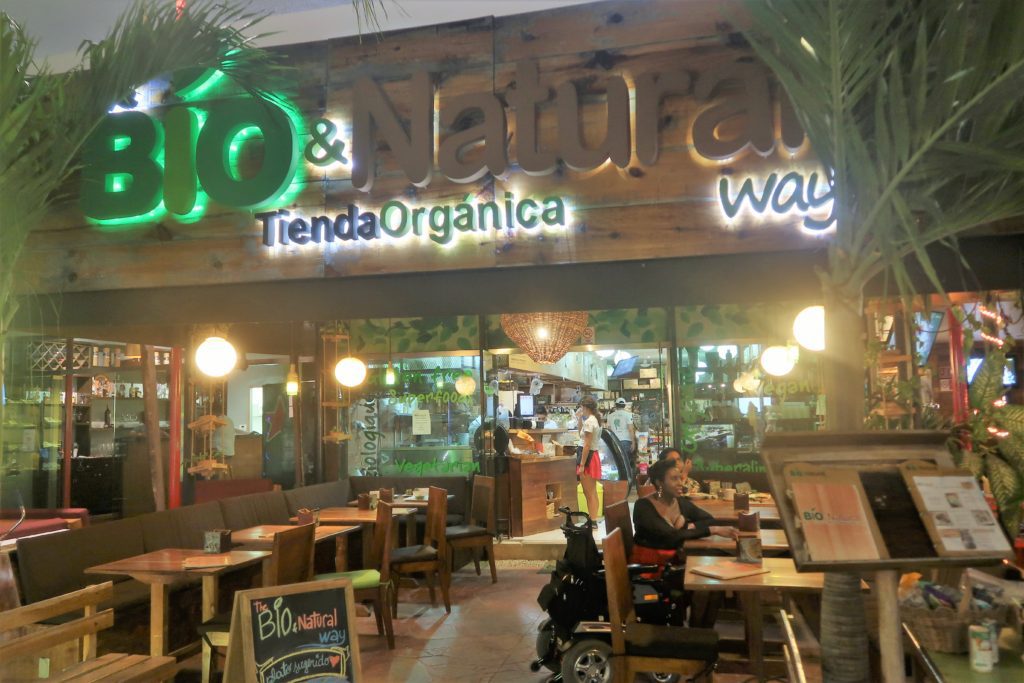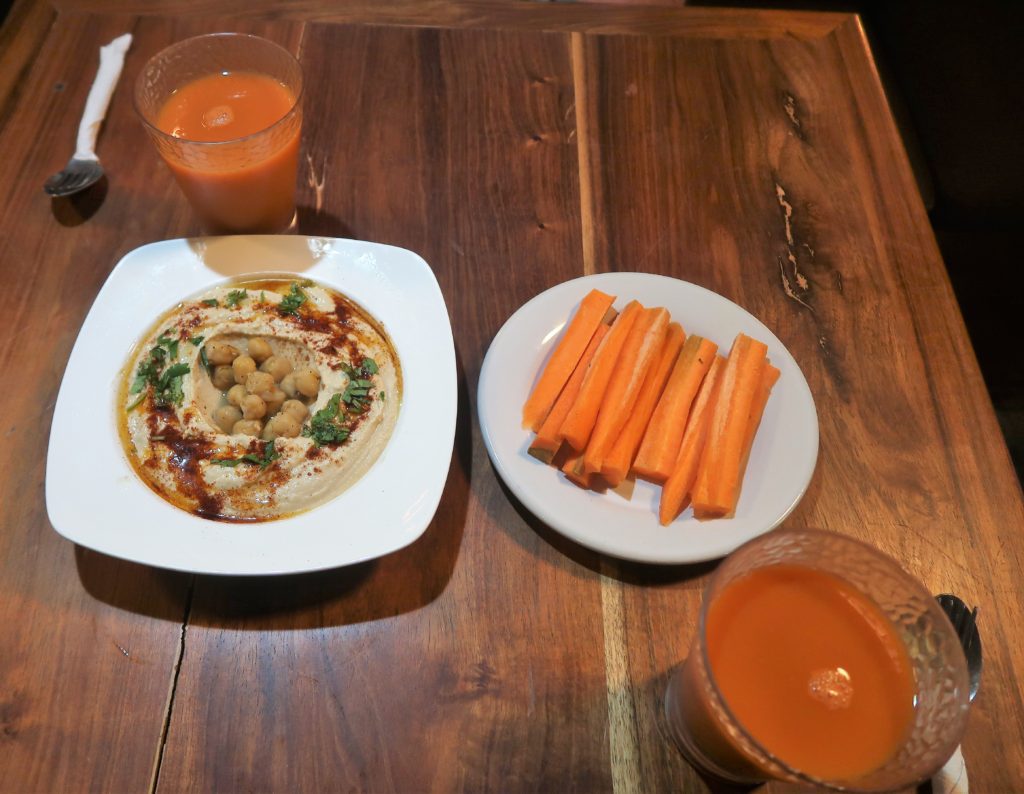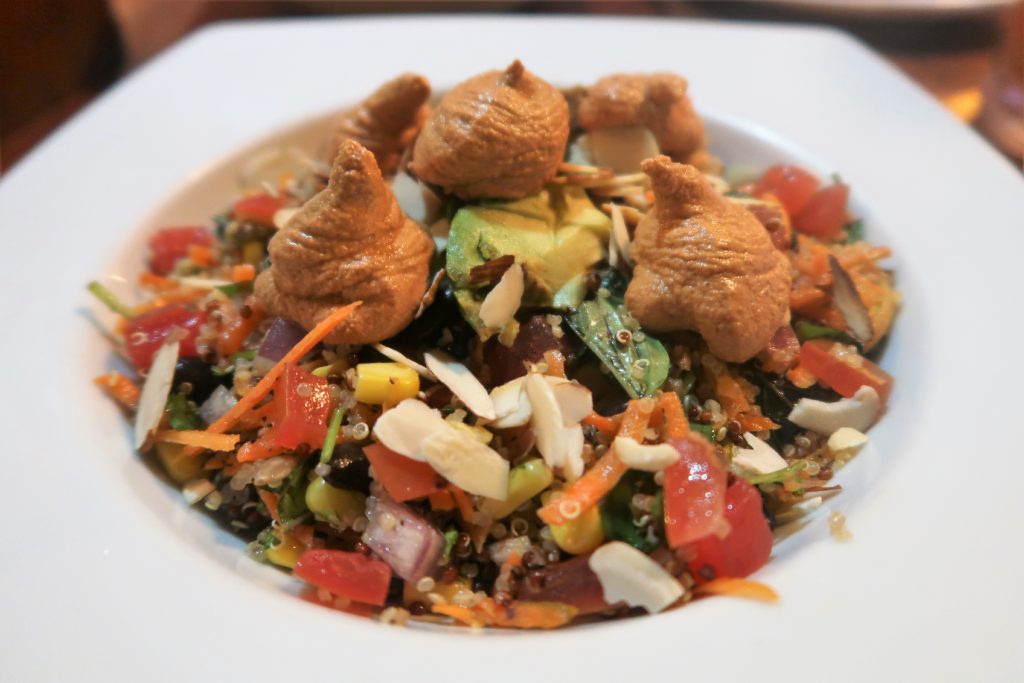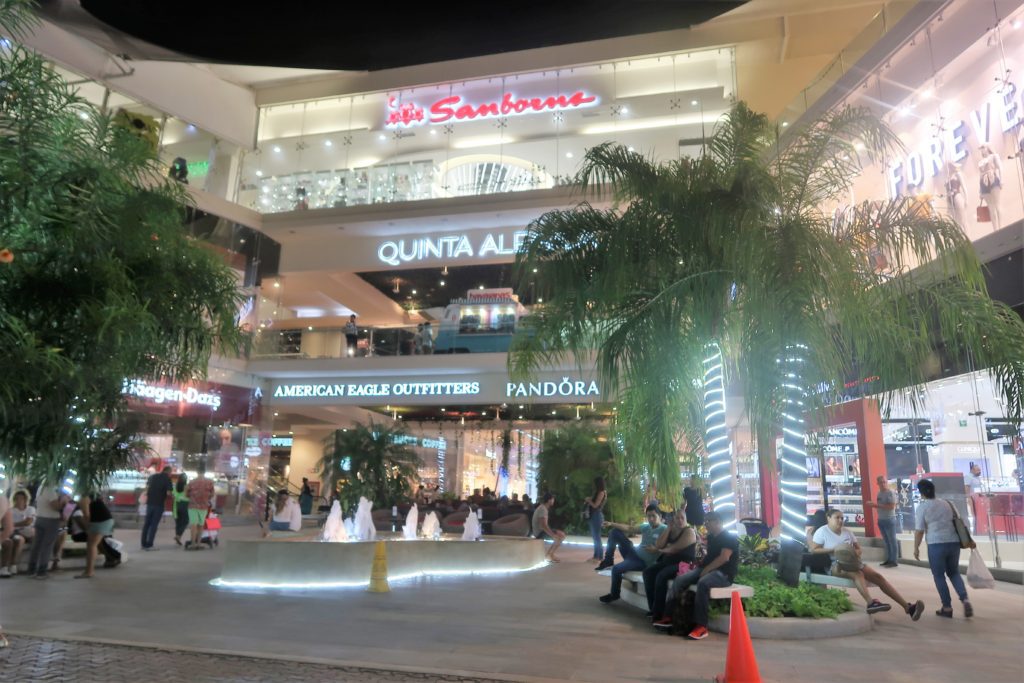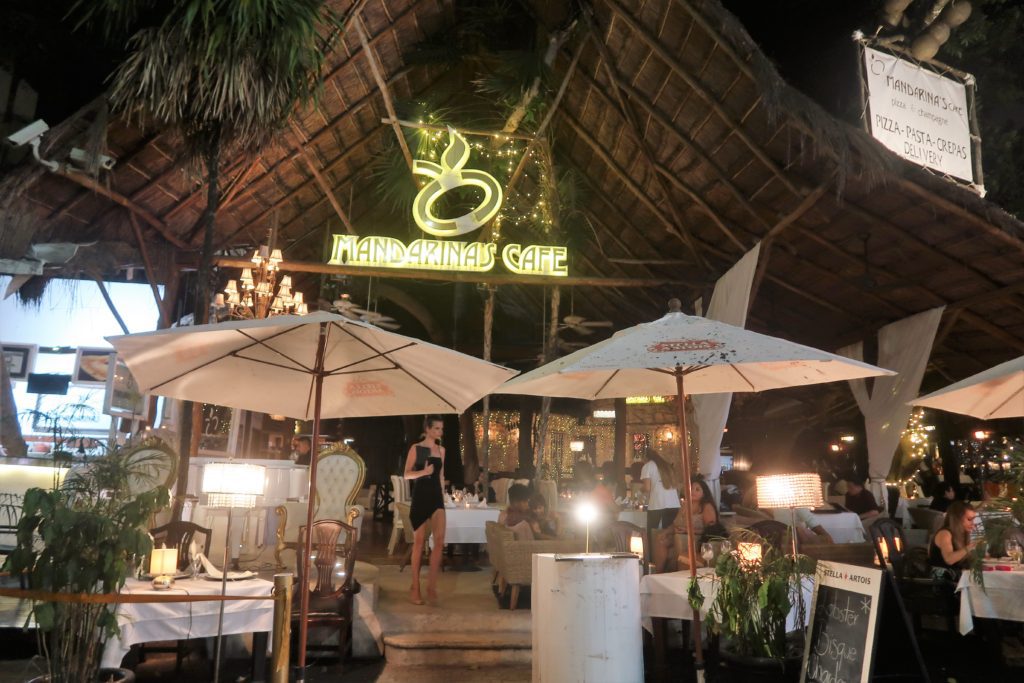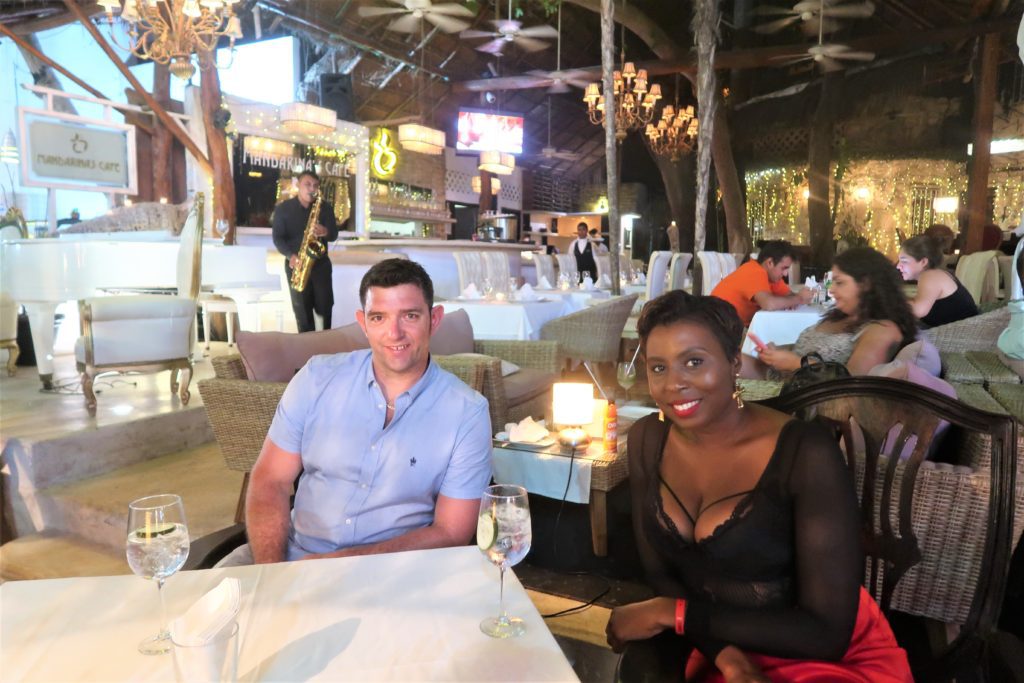 The beaches of Cancun are just beautiful! With fine white sand and turquoise blue warm Caribbean Sea, I have never seen a beach like it. The sunrise in the morning over the sea is also spectacular and worth waking up early for.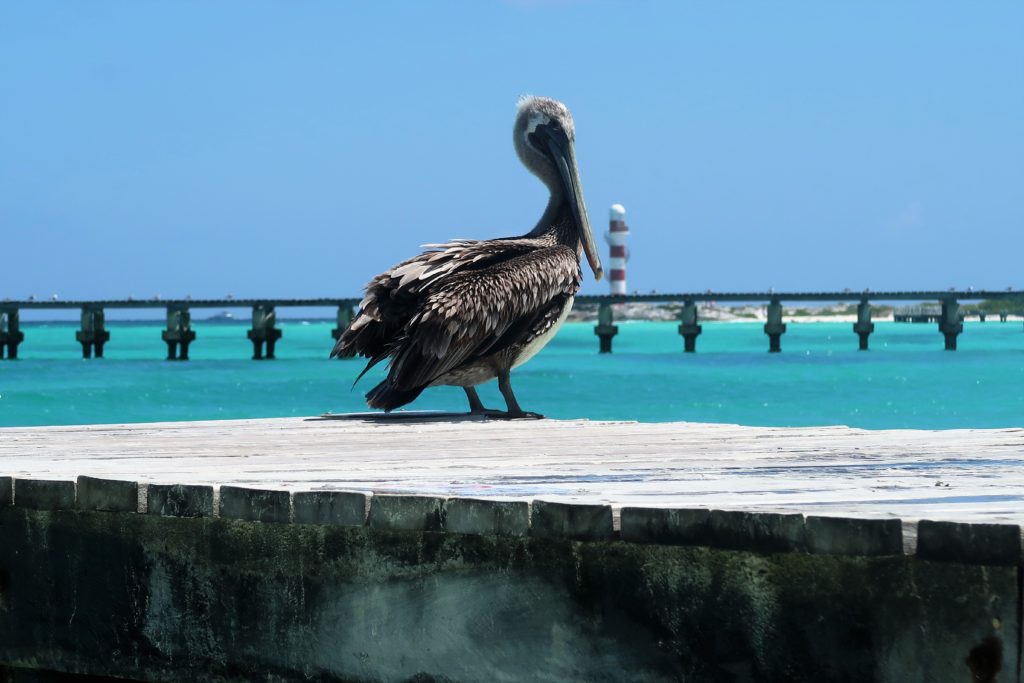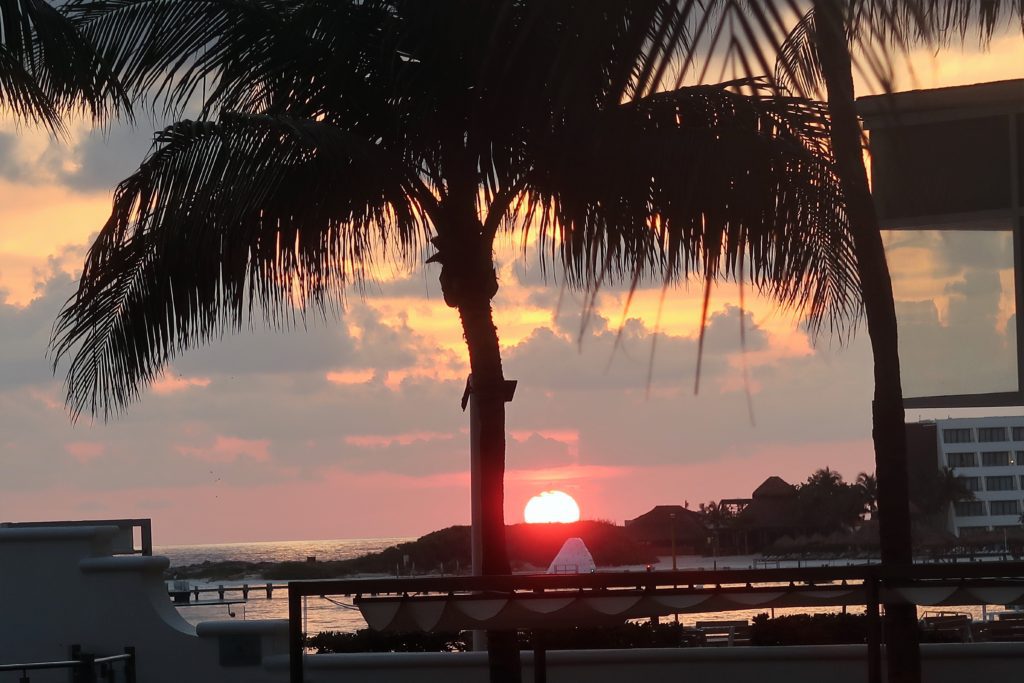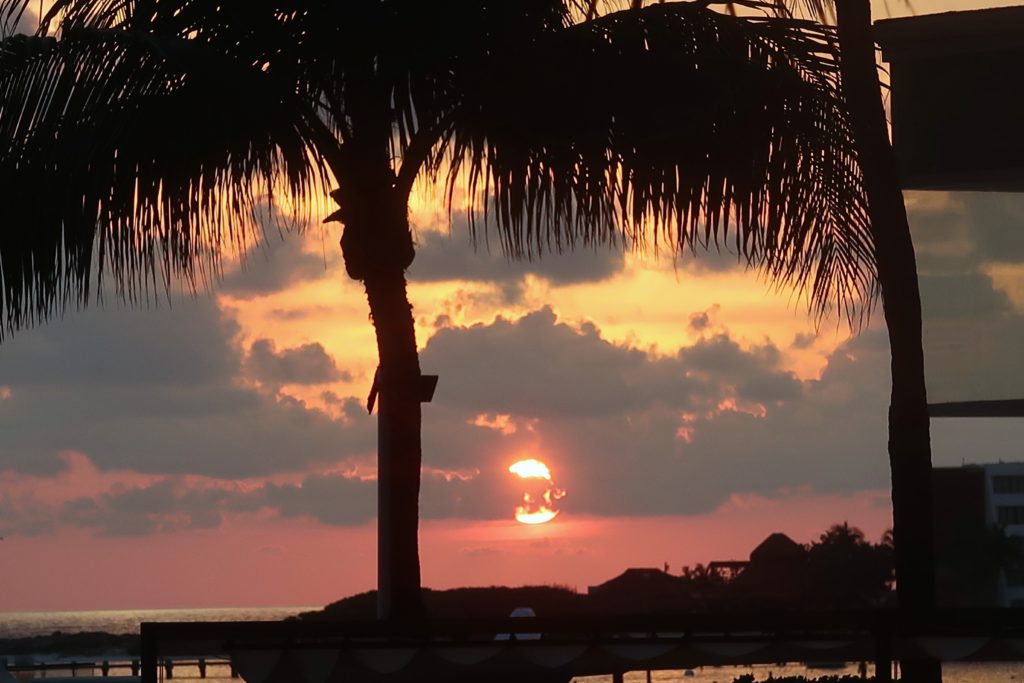 Cancun is a very thin strip of land, a city with the gorgeous Caribbean Sea on one side of it and the Lagoon on the other. Not only is the Lagoon the natural home to the crocodiles that live there in Cancun, which my boyfriend was lucky enough to spot one swimming when looking over the lagoon bank, it is also the direction the sunsets in the evening.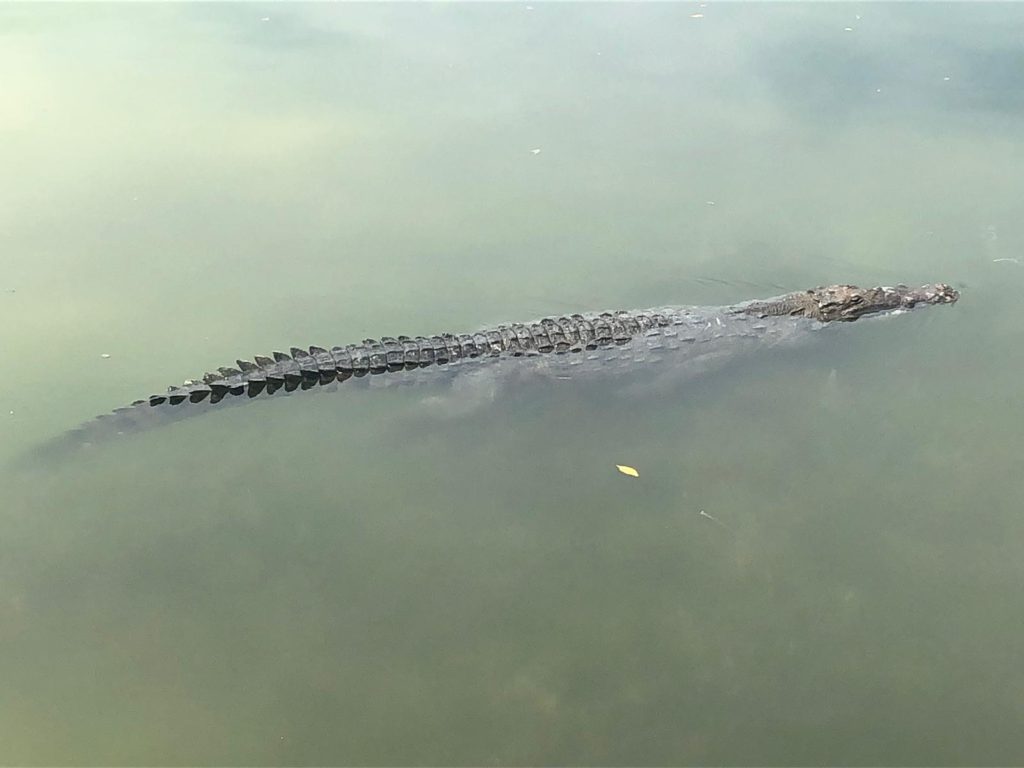 We visited the very stylish Harry's Steakhouse restaurant & bar which is fully accessible and on the bank of the lagoon. The perfect location for a romantic meal and to enjoy the sunset views. Although, it was a steak house they were very accommodating and made me vegan and gluten free meals, which were delicious.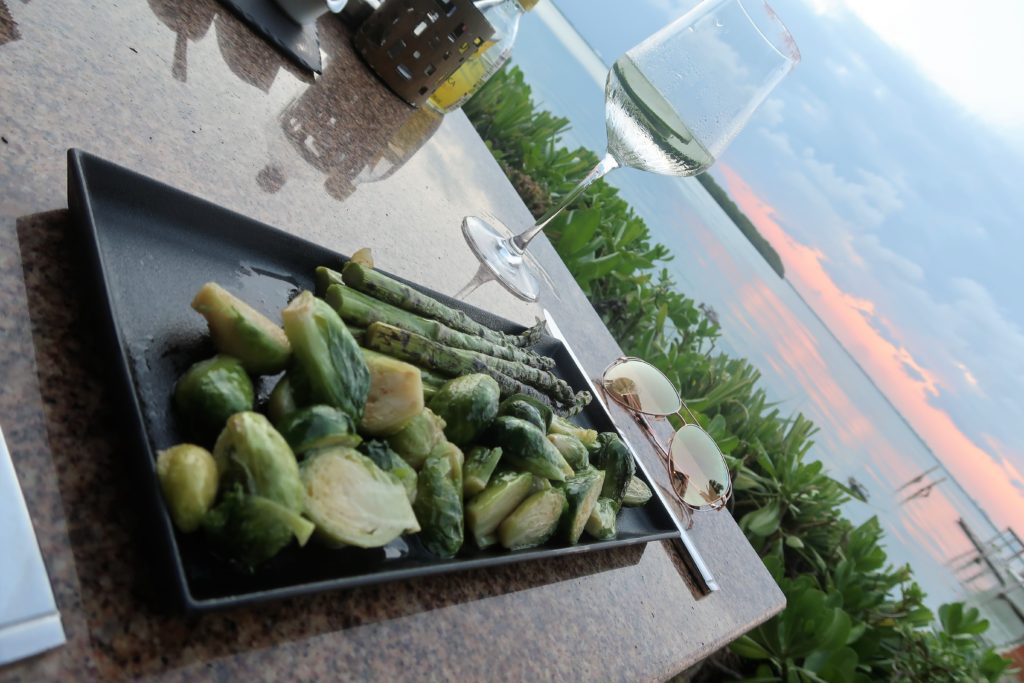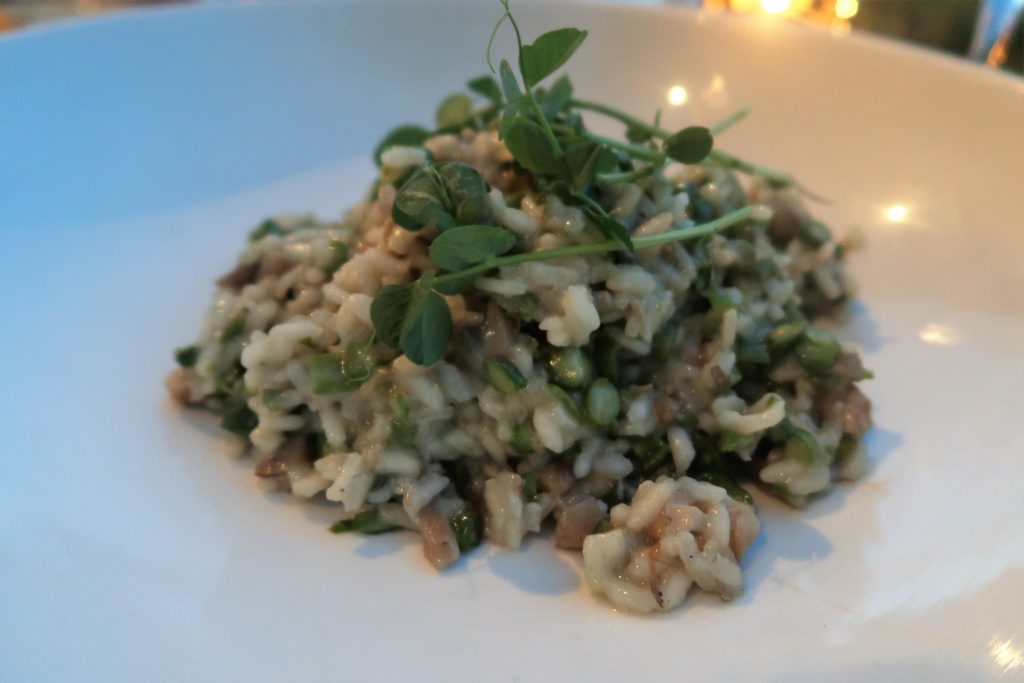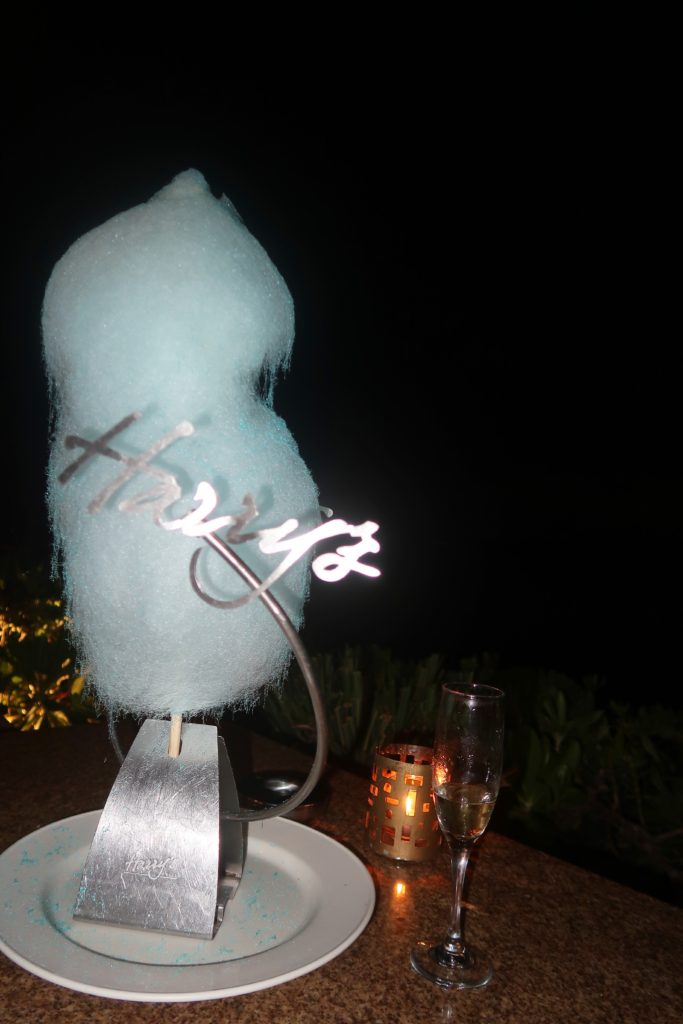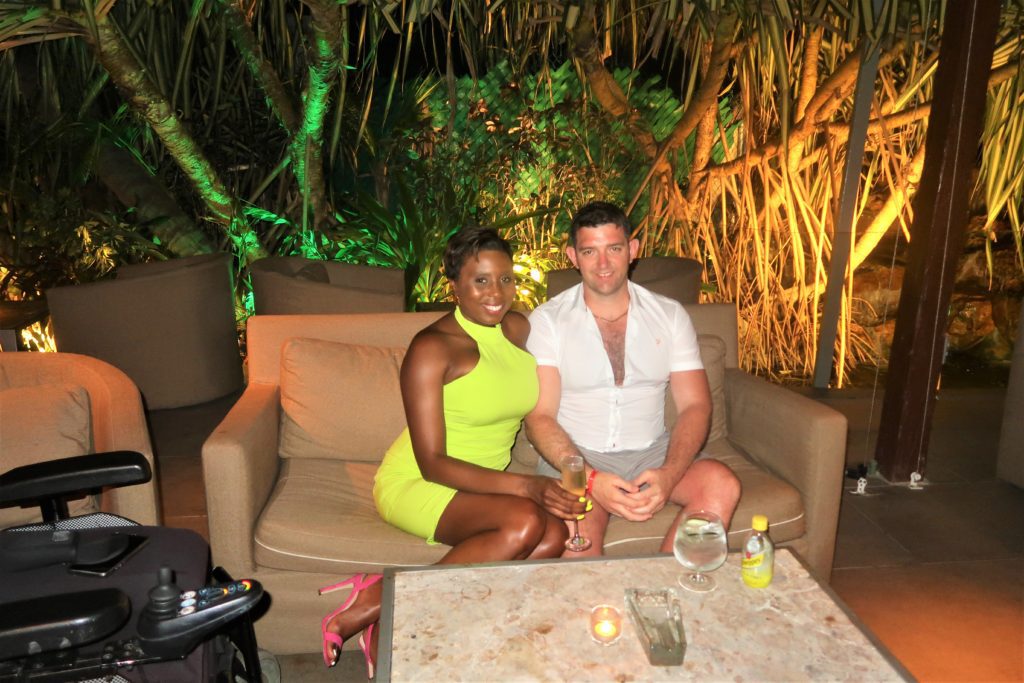 We also had an evening meal 5 minutes from our hotel, at Mextreme restaurant and bar, which is where the Tom Cruise film Cocktail was filmed. The restaurant had a lovely traditional Mexican atmosphere, with really friendly staff, where I had vegan and gluten free fajitas with all the trimmings.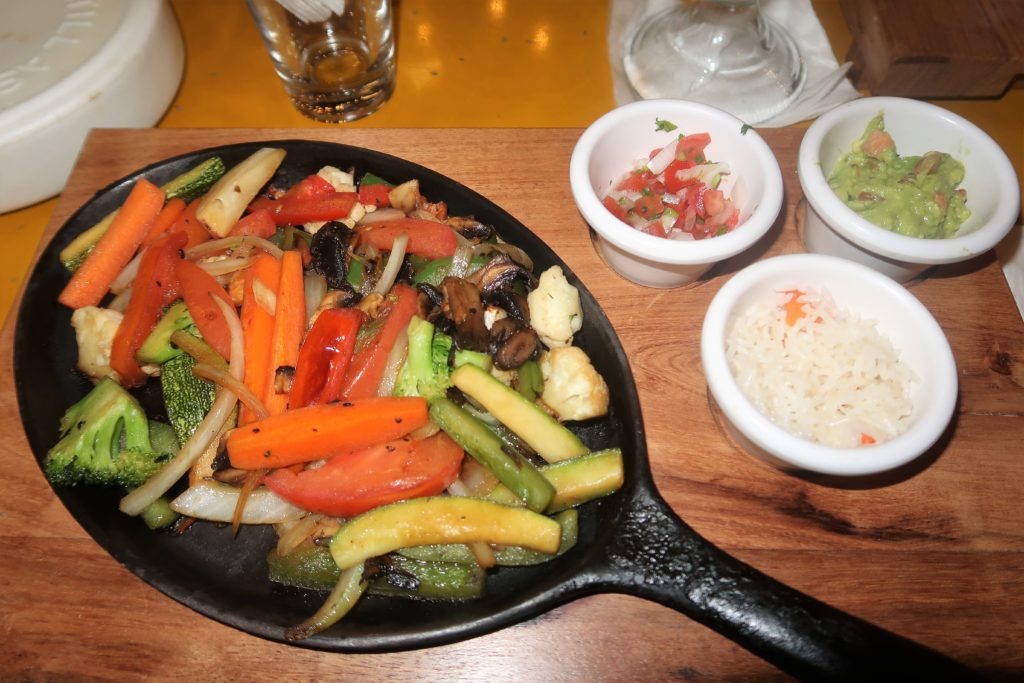 If you are a party animal and like to go out sample the Cancun night life outside of the hotel, like myself, the main strip has lots of bars and night clubs to choose from all side by side. It just so happened that it was Spring Break when we were there which is a month long. So, it was very busy with people looking for a good time. There are two-night clubs that are apparently wheelchair accessible with disabled toilets that are Coco Bongos and Palazzo, but because of the cost on the door and how busy it was, being Spring Break, we didn't go. We decided to go to the bars that played music instead that had no on the door charge. That way we went to several different places in one night. One of the bars we had a great night at was Senior Frogs. We went on a Saturday night there was no charge to get in, it was accessible with accessible toilets, good music and a friendly crowd.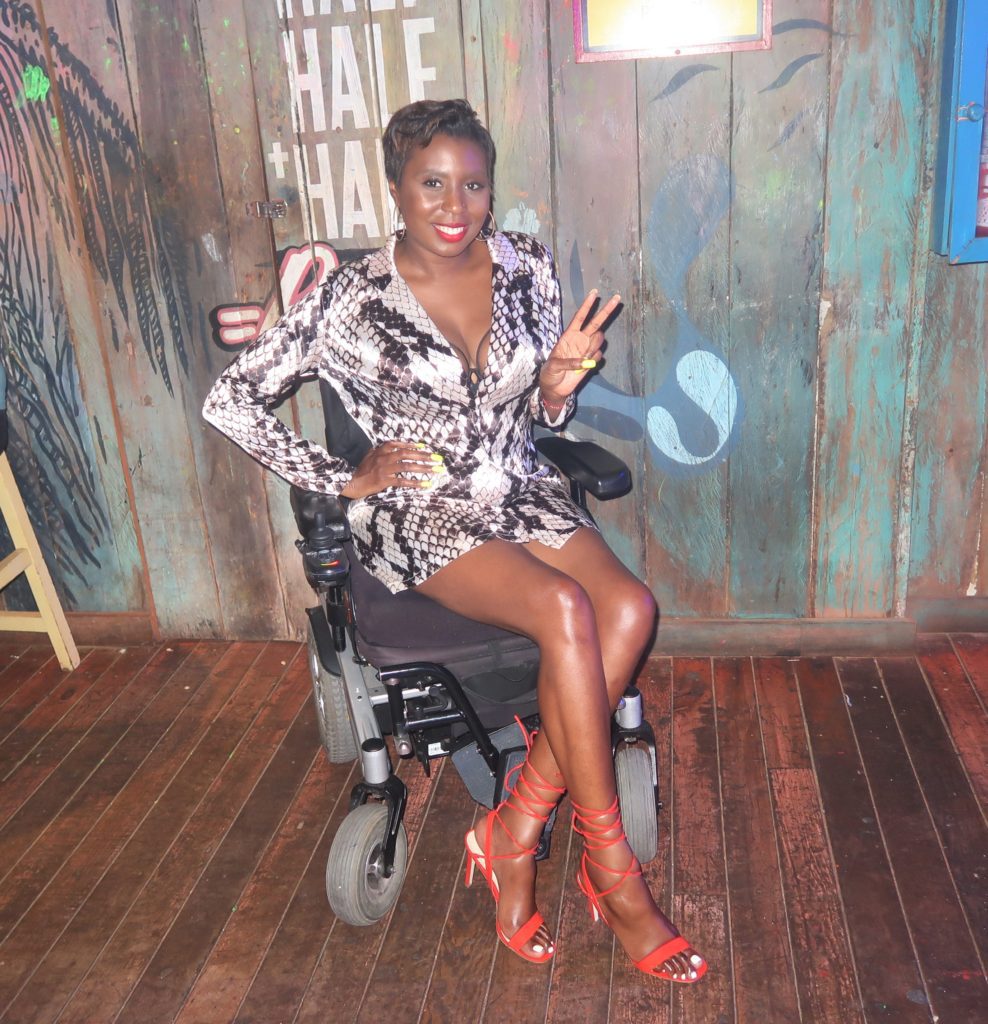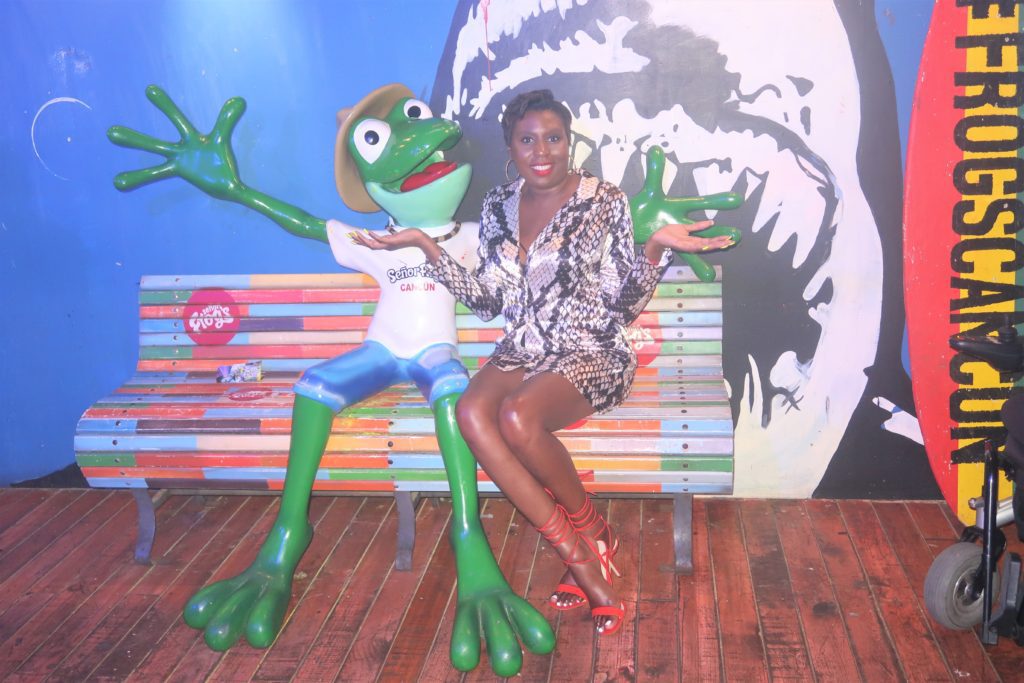 I was surprised how accessible Cancun and Playa del Carmen was, there were drop kerbs most with a blue painted square with a wheelchair sign on it. They have really tried to make it accessible in the bars, shops, restaurants etc by installing ramps, some maybe a bit steep but at least there is one. Yes, there is room for improvement but there is always more that can be done wherever you are in the world. Compared to some countries, I have visited I think Mexico have done well. Accessible taxis do have to be pre-booked in advance, as they are not readily available on every street corner, but as I said before Cancun Accessible offer a great taxi service.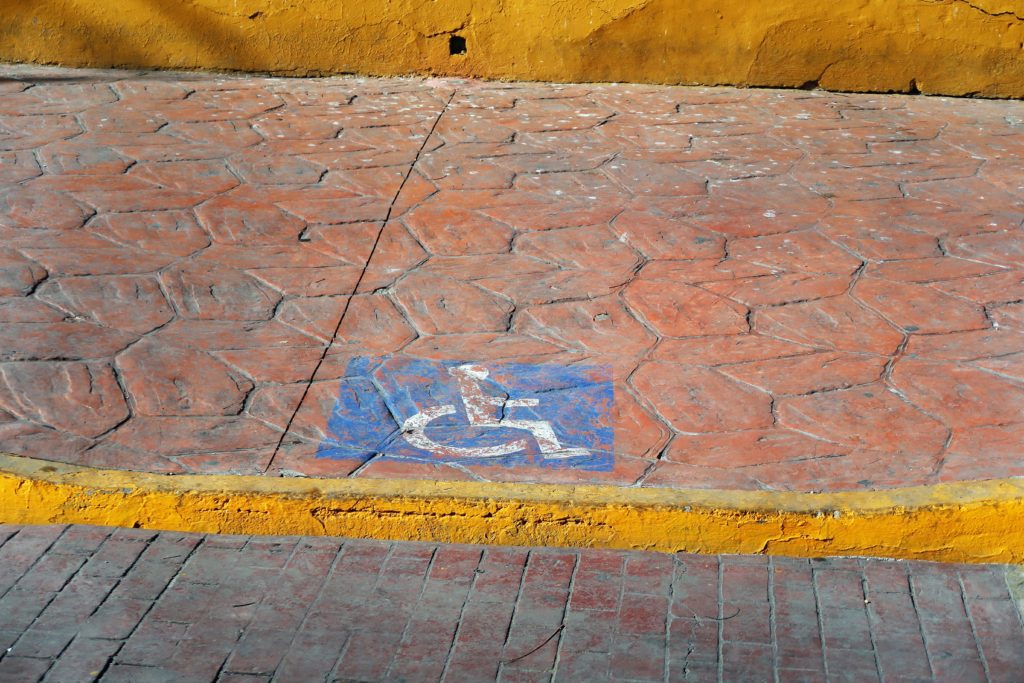 The whole holiday was an experience and a memory I will never forget. The Mexican people were very friendly and willing to help whenever they could. Whether you are a wheelchair user or not you will have a great time in Cancun.